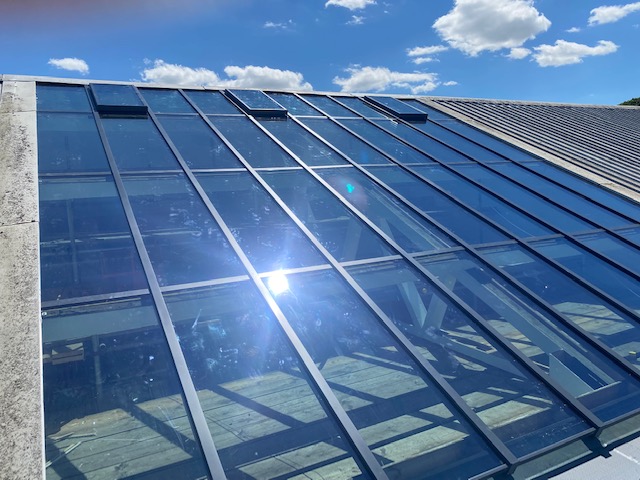 ROOFLIGHTS FOR BARKERS
Barkers is a family department store and a Northallerton institution.  Dating back to 1882 the store has a fascinating history and now, in its 140th year, it is run by the fifth generation.  Over the years, Barkers has expanded, buying out neighbouring properties to become a thriving destination store.
"Unfortunately, running a building that's over 140 years old means there's lots of maintenance involved," says Iain Macleod, maintenance manager for Barkers.  "Joining neighbouring properties together means that the store is on different levels, with different roofing and windows with different requirements, which can be quite a task for the maintenance team."
Last year, Barkers embarked on a planned specialist project – to replace the rooflights in all four atriums positioned in the centre of the store above the ladies' fashion department.
Howells Patent Glazing was appointed by Barkers to supply and install the replacement rooflights.  "I found Howells through a contractor we initially looked at using to do the whole roof project, before deciding to manage the project myself," continues, Iain.
"After looking on their website at some previous projects they had done, and having a few conversations with Walter Howells, I was confident that they were the best contractor to go with."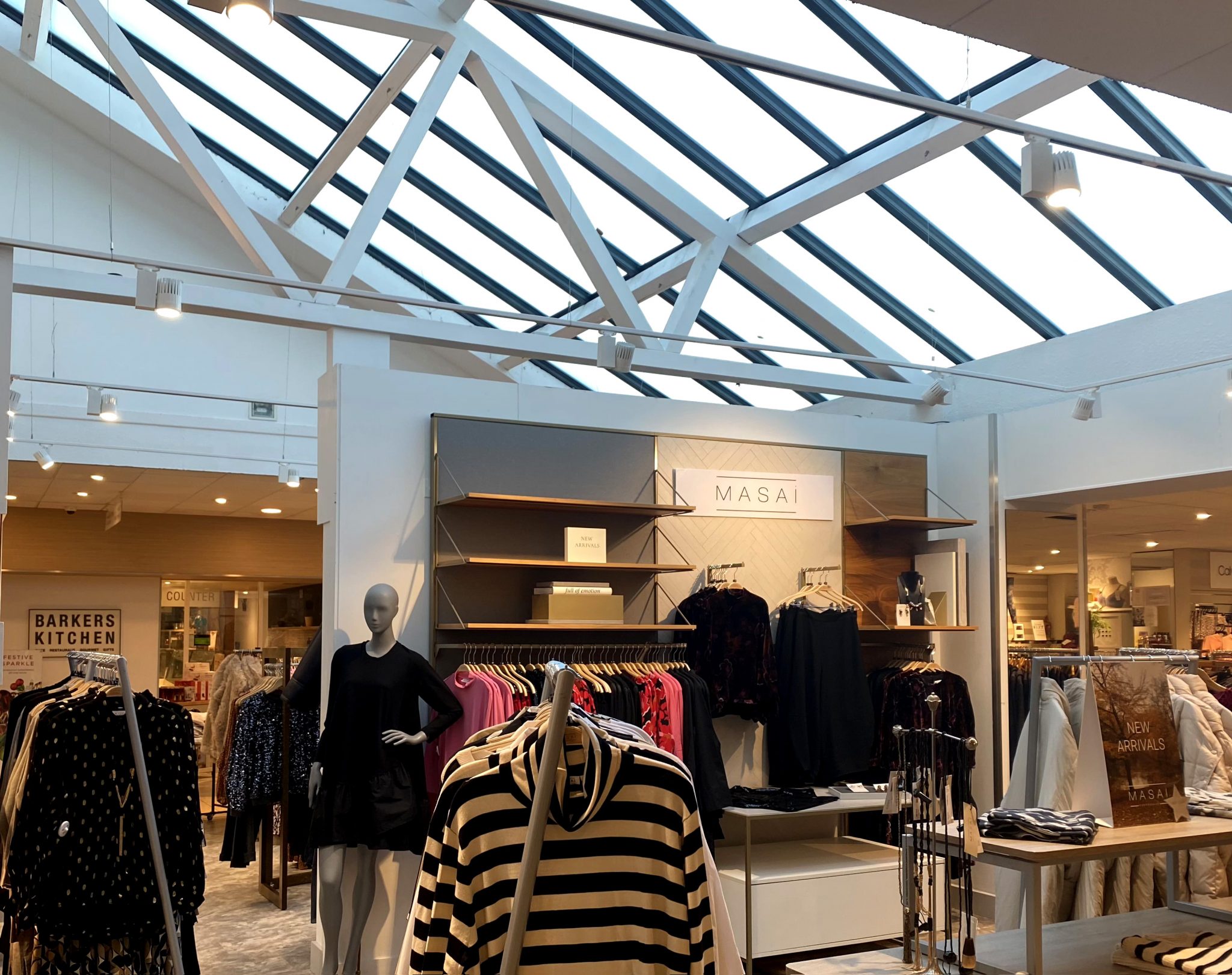 Four bespoke roof lights
Using its HG57 medium duty self-supporting glazing bar powder coated in RAL 7024 matt, Howells designed and manufactured four roof lights. 
The roof lights feature 28mm double glazed units comprising an outer pane of 6mm toughened clear solar control with self-clean coating; 16mm argon filled cavity with black warm edge spacer; and 6mm toughened inner pane.  The centre pane achieves U-value 1.0W/m2K.
The opening size of the first roof light measures 9660mm and includes three opening lights operated by 240V actuators each wired to an internal control panel with rain and temperature sensors.
The second is a smaller mono pitched roof light with no openings, measuring 3911mm wide.  Numbers three and four are single pitch roof lights with an opening size of 7120mm and three opening lights each.
Challenging installation
There were many challenges associated with this project, for both Barkers and Howells.  The biggest problem for Howells was installing during an intense heat wave.  At peak times the high temperature caused the bars and glass to heat up and they became too hot to handle.  Working at height also meant that the installation team needed additional sun protection and had to stay hydrated.  Howells introduced a shorter working day to prevent heat exhaustion.
To avoid delays caused by the searing heat, Howells employed a second installation team to speed up the installation.  The roof lights were completed in around one month.
Barkers faced different issues during construction.  "Trying to keep the disruption to a minimum on the shop floor during our summer sale was particularly tricky," continues, Iain.  "Losing large areas of the shop floor meant having to temporarily relocate departments and concessions while the work was going on.
"Another big challenge was keeping the premises secure overnight when the old roof lights had been taken out.  We had to install timber hoarding inside, underneath the roof lights, to maintain the security of the store."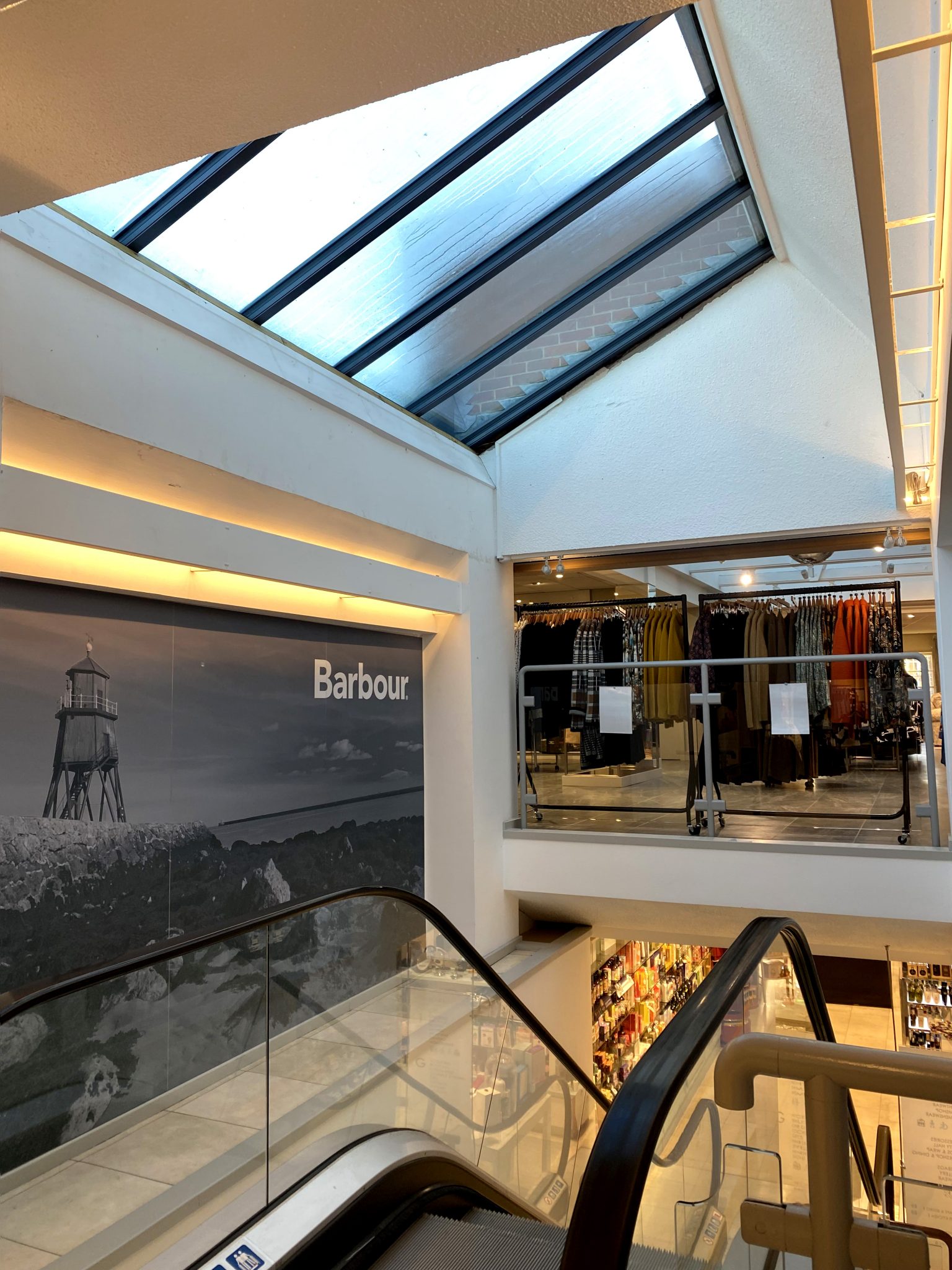 Importance of natural light for customer experience
The roof lights are vital to the store's unique shopping experience, allowing natural light to flood the upper floor.  "Natural light is important for our customers to see and appreciate a true reflection of the colour of the clothes and accessories.  Sometimes colours can look completely different under artificial light," continues, Iain.
The day lighting also supports Barkers's commitment to looking after the environment, helping to reduce dependency on electric lighting.  In addition, the recent installation of solar panels, as well as LED lighting and a Bio-Mass boiler means that both stores and distribution centre are incredibly energy efficient.
Iain concludes, "The whole experience of working with Howells, from start to finish, has been fantastic.  From my initial conversations with Walter, to working with the installation team on site, I couldn't fault anyone.  Warren [Lowe, draughtsman at Howells Patent Glazing] was great as well.  He was very helpful and organised the job perfectly."
To find out more about Howells Patent Glazing and its products and services please visit howellsglazing.co.uk.
ENDS
(712 words)
Notes to Editor://
Howells Patent Glazing
www.howellsglazing.co.uk
E: info@howellsglazing.co.uk 
T: 01384 820060 
Facebook – HowellsGlazing
LinkedIn – Howells Patent Glazing Limited