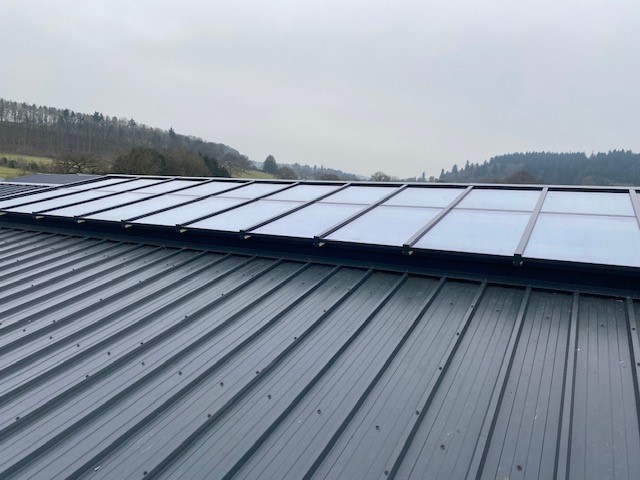 PATENT GLAZING TO RADNOR HILLS
 Howells Patent Glazing has supplied and installed an area of dual-pitched roof patent glazing for a new build two-storey office on the Radnor Hills site in Mid-Wales.  Built using its HG57 aluminium bar, the roof glazing system forms a central atrium allowing light to pour into the workspace below.  Daylighting supports Radnor Hills sustainable ethos by helping to reduce its dependency on electric lighting and therefore, cut energy costs.
Radnor Hills Ltd (Radnor) is committed to working sustainably.  With its Pledge to the Planet, it is constantly looking at ways to improve its processes and products to become more sustainable and protect the environment. 
Situated in the rolling hills of Powys in Mid-Wales it is easy to understand why this plays such a fundamental role in the business.  When the company needed to expand its office facilities the team was keen to include solutions and technologies which follow their sustainable ethos.  One key factor was natural day light.
The new build two-storey office was designed by local practice, Bryan Thomas Architectural Design, and includes a central atrium (rooflight).  This allows for natural light to pour into the workspace below and is a feature of the standing-seam metal roof.
For the glazed roof Radnor sought advice from its building contractor. 
"Our builder recommended Howells Patent Glazing for the supply and fit of the atrium, and we were happy to go with their advice," comments building manager at Radnor Hills, Wayne Priday. 
"They [Howells] have been extremely good to deal with.  They guided us on what we needed and recommended which glass and framework would best meet our requirements."
Howells supplied an area of dual-pitched roof patent glazing built using its HG57 aluminium bar (LINK: https://www.howellsglazing.co.uk/commercial-glazing-products-detail.php?id=13).   The rooflight measures 9.29m long by 2.84m on each slope. 
The aluminium bar is polyester powder coated in Matt Anthracite Grey (RAL7016) on the exterior face and Matt Cream (RAL9001) internally.  This finish is extremely durable and protects the metal from the elements – an important factor in open country.
The HG57 is a medium duty self-supporting glazing aluminium bar (LINK: https://www.howellsglazing.co.uk/commercial-glazing-products-detail.php?id=13).  It is the strongest bar in the Howells range, able to span the furthest and take the greatest load between bars.  Visually, the aesthetic of the bar is clean; internally, there are no obstructions to the view of the bar. 
The aluminium frame is glazed with 28mm double glazed units, comprising a 6mm toughened SunGuardⓇ SuperNeutralⓇ (SN) 70/35 glass outer pane, and a 6mm clear toughened inner, with a 16mm argon filled cavity with warm edge spacer. 
The outer pane is a neutral blue glass which offers excellent solar protection while reducing the need for artificial light.  Ideal for large, glazed windows SN 70/35 also provides outstanding thermal insulation.  This is an essential consideration for the two-storey building – with soaring energy costs, energy efficiency was a key criterion of the specification.  The rooflight achieves a 1.0 W/m2K U-value .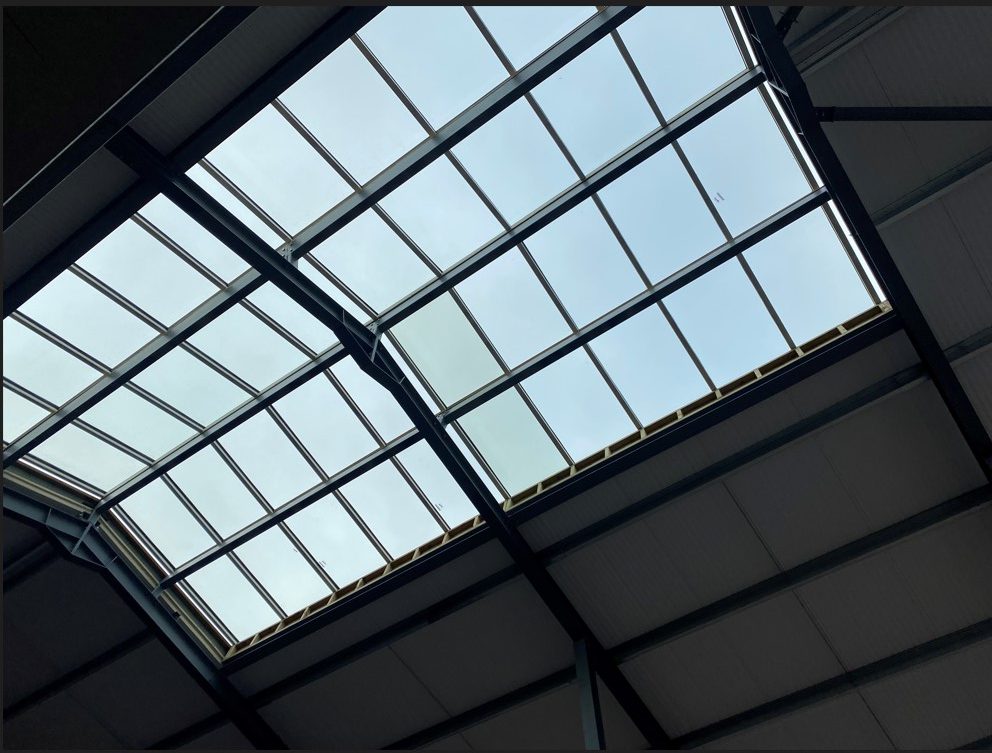 Tracey Jackson, business development manager (LINK: https://www.linkedin.com/in/tracey-jackson-cmgr-fcmi-faccph-bbba1936/) for Howells Patent Glazing, said:
"It  is always a pleasure to support businesses who understand and appreciate the importance of natural day light for completing tasks and creating healthier workspaces.  It is proven that the performance and productivity of workers can increase with the quality of light, as such our dual-pitched roof patent glazing will improve mood, boost morale, and reduce fatigue and eye strain (Robbins, 1986) amongst the office staff at Radnor Hills."
Launched in 1990, Radnor supplies spring waters and soft drinks to businesses and consumers around the globe.  All of which are produced and packed on the family farm.  Many of its drinks have won prestigious industry and national awards including those presented by the Guild of Fine Food.
The business was also awarded the Sustainable/Ethical Manufacturer Award by Made in Wales, in 2019.
To find out more about Howells Patent Glazing and its products and services please visit howellsglazing.co.uk.
ENDS
Howells Patent Glazing
www.howellsglazing.co.uk
E: info@howellsglazing.co.uk 
T: 01384 820060 
Facebook – HowellsGlazing
LinkedIn – Howells Patent Glazing Limited
Twitter – HowellsGlazing