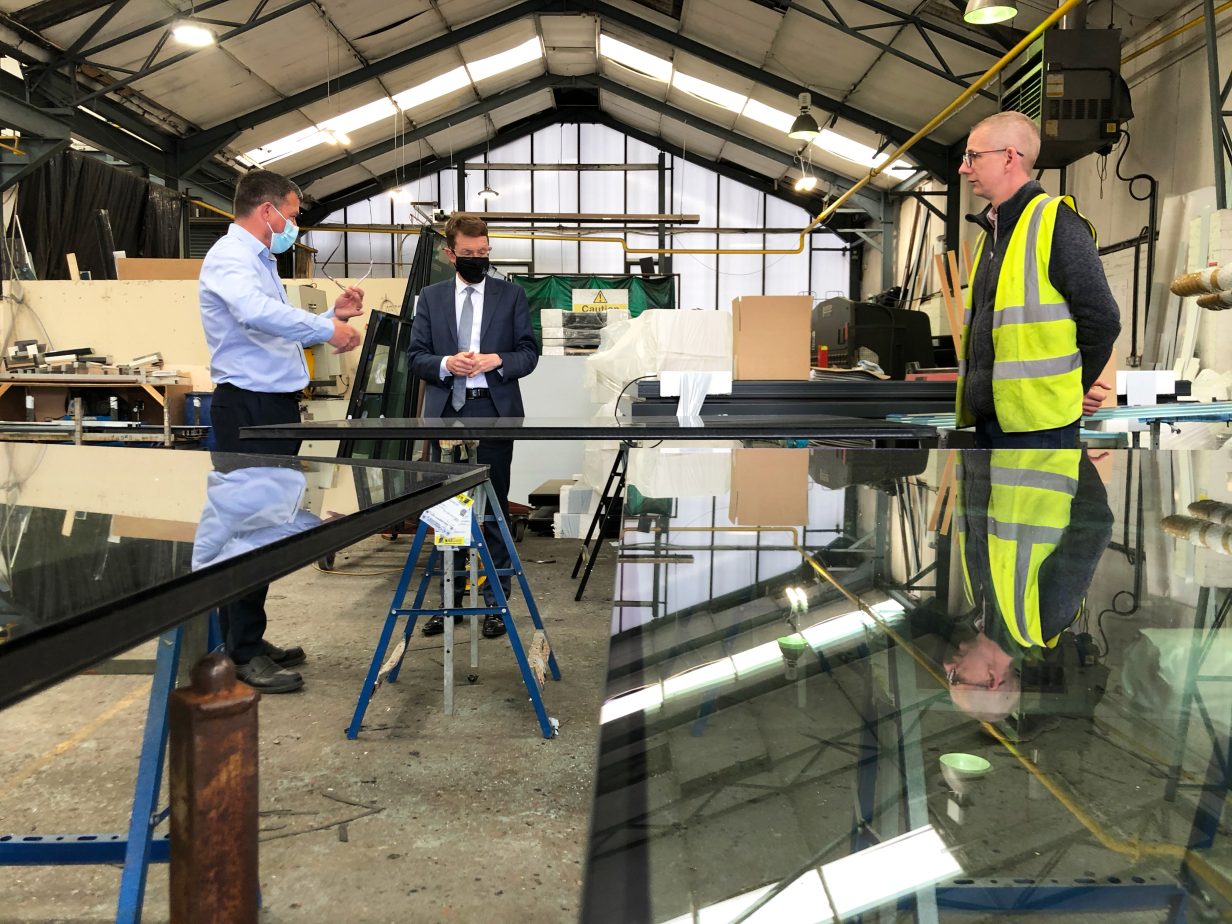 HOWELLS WELCOMES MAYOR TO HIGHLIGHT IMPORTANCE OF MENTAL HEALTH
Howells Patent Glazing has welcomed Mayor of the West Midlands, Andy Street to its Black Country factory as part of national Mental Health Awareness Week.
The company shared some of the measures it has put in place to support the mental health and wellbeing of its employees.
The family-run business takes part in the Thrive at Work initiative – a workplace wellbeing programme established by the West Midlands Combined Authority (WMCA) to help businesses, across the West and East Midlands to support their employees. By promoting health and wellbeing, the scheme benefits employees and the business by boosting productivity and demonstrating that the company is a considerate employer.
Howells signed up to the programme in 2018 and put in place action plans to support their employee's mental health and wellbeing. Despite being based on an industrial estate behind Cradley Heath station, the firm has provided access to their staff to two nature trails, where workers can go and switch off from the stresses of everyday life.
One of the trails runs along Mousesweet Brook, close to Saltwell Nature Reserve, home to a wide variety of wildlife, including green and greater spotted woodpeckers.
The visit was also appropriate given this year's Mental Health Awareness Week (10th – 16th May) focus on how nature can boost mental and physical health and reduce feelings of isolation.
Welcoming the Mayor's visit, Tracey Jackson of Howells Patent Glazing commented: "We would like to thank the Mayor for taking the time to visit us and for taking an interest in our work and wellbeing programme. We are incredibly proud of our status as a Thrive at Work accredited employer (Bronze Level Award).
"We were also one of the first businesses to engage with the Mayor's Mentor initiative which has certainly been a catalyst for change and progress. Two of our management team, myself included, have since become professionally trained coaches and mentors. This has given us the confidence to change perception, job craft and improve the mental health of our staff; invaluable resources for any SME."
Following his visit, the Mayor said: "It is vital we recognise the importance and benefits of good mental health not only for the individual that may be affected, but also for our wider economic recovery.
"I made mental health a clear priority in my election manifesto, and I intend to continue to deliver on those promises. Positive mental health is good for the individual and good for the economy – no one should be left behind.
"Howells has clearly demonstrated how it puts the interests of its employees front and centre, in turn creating a workforce that I'm sure is more committed, happy and healthy. And what an inspired idea to reach out to nature to provide its team with that space to break away from their everyday pressures."