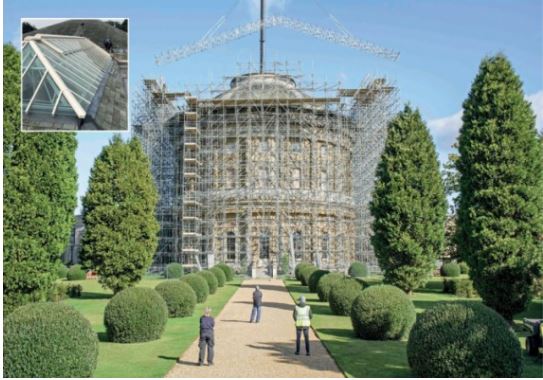 HOWELLS RALLIES FOR ICKWORTH SQUASH COURT
As part of a major conservation project to repair the roof of Ickworth, which is cared for by the National Trust, Howells Patent Glazing has supplied and installed a replacement glazed roof with vents for the historic squash court.
Howells was appointed by main contractor, Messenger as one of the skilled specialists selected to see the wider 'Ickworth Uncovered' project through to completion. The biggest conservation works Ickworth has ever seen, the task included mending leaks, re-tiling the iconic Rotunda roof, improvements to the East Wing roof and added lightening protection.
The Black Country based patent glazing specialist designed and manufactured the replacement glazed roof for the squash court of the Italianate Palace using its HG1 type patent glazing system. The new glazed roof measures 9.5m x 4m on plan and is pitched at 30 degrees.
It was critical that the glass was as close to the thickness of the original for structural and aesthetic purposes, as such Howells utilised 9.5mm laminated glass, single glazed, within 40mm wide aluminium glazing bars in a matt polyester powder coated finish in Cream RAL 9001.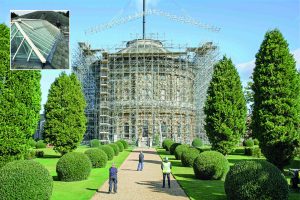 Howells was also tasked with refurbishing the squash court's manual operating gear for the opening sashes. The system was adapted to accommodate electric motors to create electrically operated opening ventilators, connected to a remote-control panel situated in a storeroom below.
The new glazed roof with vents meets the requirements of BS 5516-1:2004 and BS 5516-2:2004 (patent glazing and sloping glazing for buildings).
Due to the vulnerability of the building and the collections housed within, speed and accuracy were vital for 'Ickworth Uncovered'. The project schedule benefited from Howells's commitment to assembling each rooflight in its factory prior to dispatch, helping to ensure an accurate fit. The replacement roof was delivered in kit form with pre-drilled holes, making for a quick installation.
'Ickworth Uncovered' was completed in 65 weeks, using more than 7,000 Westmorland slate tiles and 270 miles of scaffold. It was funded thanks to the generosity of National Trust members, supporters and donors, together with significant grant funding from the National Lottery Heritage Fund, The Wolfson Foundation and Arts Council.
Ickworth with its classical Rotunda, East and West Wings forms the centrepiece of the Ickworth Estate. It is the vision of the 4th Earl of Bristol and was built to impress – an 18th century building showcasing the many treasures and art collected by the Earl Bishop.This entry was posted in Uncategorised. Bookmark the permalink. Edit← THE NATURAL ARCHITECTURAL TOO