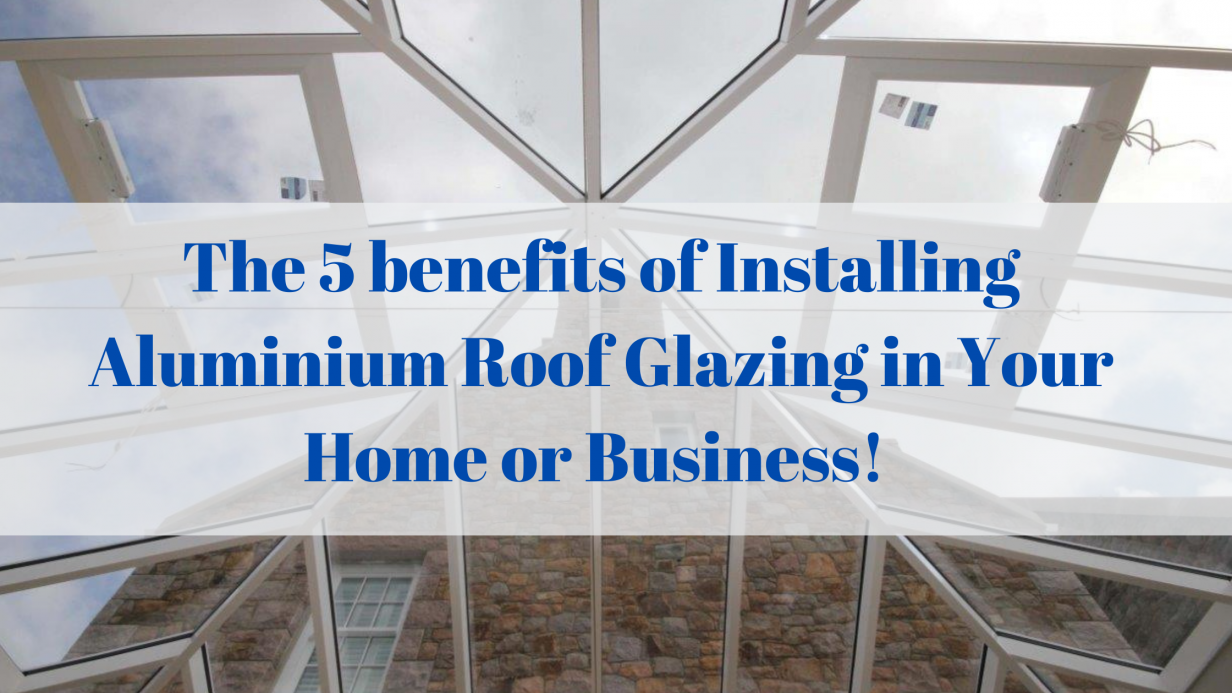 The 5 benefits of Installing Aluminium Roof Glazing in Your Home or Business!
Have you ever wondering what the benefits of installing an Aluminium roof glazing would be like? Having the warm sun beaming in, casting long shadows over  your home furnishings, or looking out the window on a wet rainy day, marvelling at the turbulence in the sky, of the dry, cosy safety of your home? Then check out our top tips made especially for you, with 5 benefits of installing aluminium roof glazing in your home or business.
1.   Natural light
Why settle for a dim, dark corners of your room, wasting money on energy bills when the sun can do all the work for you?
Did you know that Roof lights transform your home whilst having a ton of benefits pouring in: such as helping our bodies produce vitamin D, which to help us focus, reduce stress and boost productivity! Decades of studies have shown that this is vital to our psychological wellbeing and our circadian rhythm (our bodies internal clock).
If you're feeling sluggish or stressed, soaking up natural light can make a difference!
We need as much daylight as possible as we no longer experience the day and night cycles our bodies are designed for with the invention of artificial lighting. Research shows, we now spend close to 90% of our lives indoors. However, our Aluminium Roof Glazing allows for effortless and continuous natural light to enter your space, which reduces the need for inconveniently expensive artificial lights, creating a comfortable and welcoming atmosphere (while also helping healthy hormone production!)
2. Energy efficiency
Aren't you fed up of the frequent bulb replacements? Or the constant flipping of a switch when you enter a room? By allowing sunlight to enter your space, you can reduce your reliance on lights, which are harsh and unflattering, as well as decreasing your carbon footprint.
Strikingly, our roof lights contain a low U Value making it thermally efficient. This is a measure of how much heat is lost, keeping your property warmer in the winter and cooler in the summer. According to Roof light Association, artificial lighting currently accounts for between fifteen and twenty percent of global energy usage.
3.  Durability
Rooflights are known for their durability, as they are designed to be exposed to the elements. Often made of high-quality materials such as Aluminum – a lightweight and strong material that is resistant to corrosion and weathering, making an ideal choice for outdoor applications and a result being that they are less likely to crack, chip or break overtime (extending their lifespan) and less likely to suffer damage.
4.  Aesthetics
Whilst improving efficiency and livability, roof lights can be a great way to add a sleek, modern design to your space, while stylishly enhancing the overall look. They can come in a variety of shapes and sizes and styles which easily could fit the existing decor – which is sure to impress, creating a bright, airy and inviting atmosphere. Perfect for entertaining guests or spending time with your loved ones!
5.  Low maintenance
With minimal maintenance, this sensational, hassle-free opportunity is a solution for homeowners and businesses! Aluminium roof glazing require little upkeep or cleaning, meaning you can spend less time worrying about maintenance and repairs. Still, don't forget to clean the internal windows every few months, with dusting and a mild detergent or soap.
So, if you're looking for a long-lasting solution for your home, this is the perfect answer for you. With their high-quality materials to their energy saving efficiency – our roof lights meet all of your needs.
by Amelie Jackson