Work experience to young people is the way forward for British businesses
Work experience to young people is the way forward for British businesses, there is much information about the skills shortage in the UK and what better way to tackle it than by inspiring the youth of tomorrow with a sneak peak of the dizzy world of commerce.  With national statistics indicating 695549 children born in 2003 and potentially seeking work experience in the UK and then another potential 2 million over the next 3 years, it feels that it is going to be an immense task to take on for schools and businesses.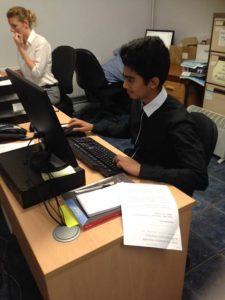 Work experience has traditionally been ill used leaving the young nearly school leavers with experiences with stacking boxes, sweeping up and stuffing envelopes…. Hardly inspiring….  What if this experience could be turned on its head and instead a cohesive approach formulated by the company to truly give a glimpse into different departments?
Well, this is what Howells Patent Glazing Limited are doing this year, they have put together a concise work experience package that has aims and measures, it trains out procedures, involves real research and has a delivery point for every morning and then each afternoon.
The departments that are the focus of the experience will include HR/payroll, Accounts, Marketing, Production and Sales and will involve the students undertaking short Aviva training courses, internal training and completing an activity in each department.
By the time their training has been completed they will understand key aspects of employment, pay structure and how to present their findings.  The importance of market research and brand awareness.  How to understand financial measurement and plan personal development.  Why we need Health and Safety and actually get them making something!  Finally, to round the week off they will be involved with sales and get a whistle stop tour of CRM systems.
This comes on the back of West Midlands Mayor Andy Street beginning his Mayors Mentors programme, he wants 100 businesses to support his campaign for business to share their knowledge and help to give young people the life skills and advice they need to flourish.   We feel that there should be an emphasis on SME's to fulfil this service as they represent 70% of uk business under 100 employees, as this is an essential sector to tap into as this will form the majority of end point employment for these individuals.  This is never truer than when you look at the statistics behind these figures:
Small business account for 99.3% of all private sector business at the start of 2017 and 60% of all employment in this sector was attributed to them.  These figures equate to 950 billion pounds worth of turnover.
However, when all is said and done wouldn't it be lovely to find out in years to come that YOU made a difference in a young person's life and were pivotal in shaping their future for the positive?
At Howells, we think that our future lies with this and subsequent generations to keep the British manufacturing and construction industries alive.
by Tracey Jackson
https://www.statista.com/statistics/281981/live-births-in-the-united-kingdom-uk-1990/
https://www.independent.co.uk/news/uk/home-news/uk-birth-rate-latest-number-babies-born-lowest-decade-a8066101.html
https://assets.publishing.service.gov.uk/government/uploads/system/uploads/attachment_data/file/650547/SFR28_2017_Main_Text.pdf
https://www.wmca.org.uk/mayorsmentors