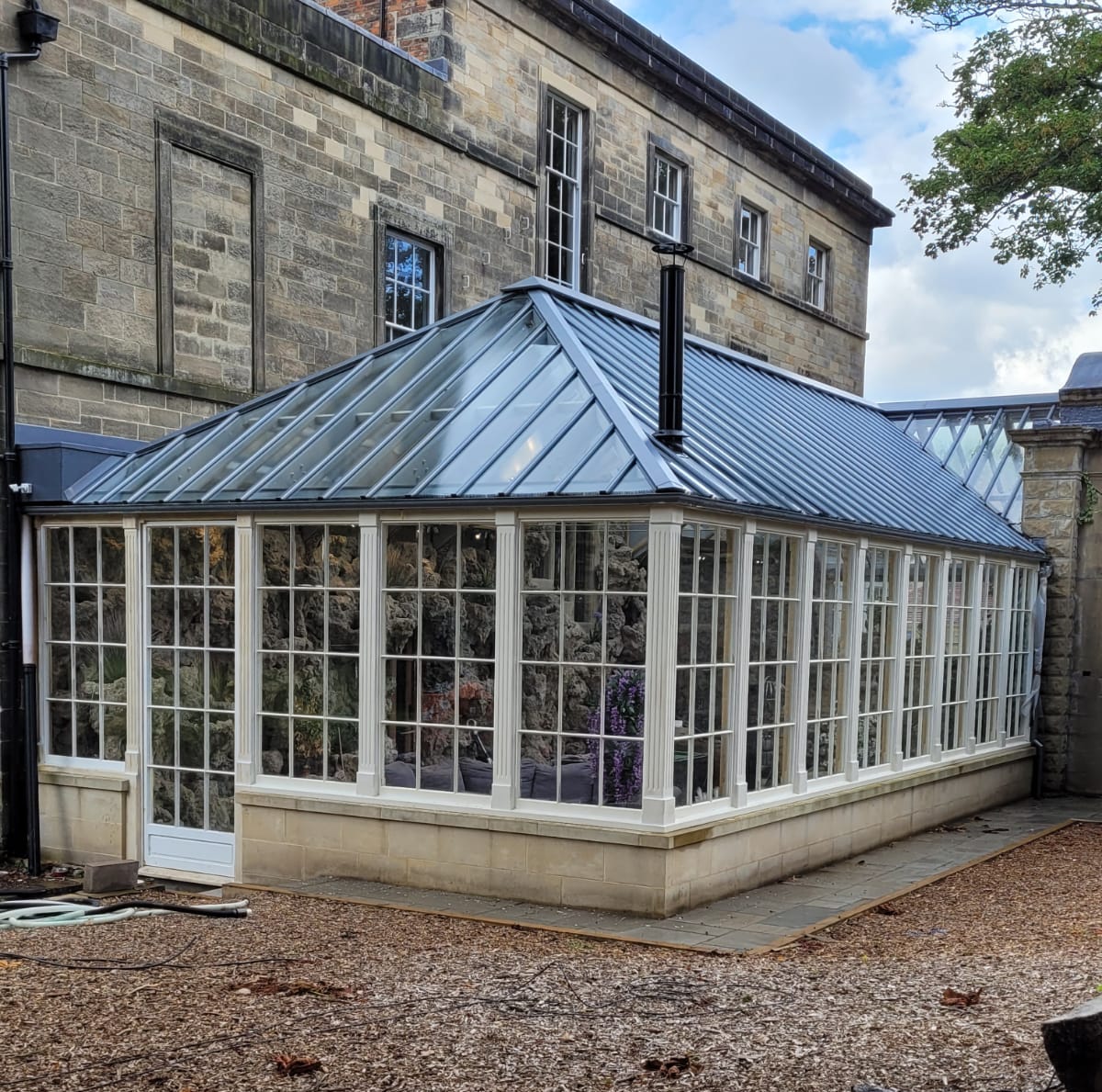 CONSERVATORY MANSION REFURBISHMENT
Until recently, Doxford House in Sunderland was a derelict Georgian mansion, listed on the 2009 Heritage at Risk Register.  Now in private ownership the property has been restored to a single residence, undergoing significant remodelling and refurbishment.   Patent glazing specialist, Howells was selected to manufacture and install a new  conservatory roof for mansion refurbishment for the 'Winter Garden', a large conservatory and part of the formal entrance onto Warden Law Lane.
"I was searching the internet for an appropriate rafter glazing system, and I found Howells," says Gary Lax, Doxford House site manager.  "I was impressed by their skill and capability, and experience with period buildings.  Having spoken with Walter (Howells), we decided to go with them; he was such a nice character."
Built in 1775, only two elements of Doxford House are Grade II listed – a mosaic floor and areas of decorative stonework.  However, to help retain the character of the property, the owner chose to use authentic materials wherever possible.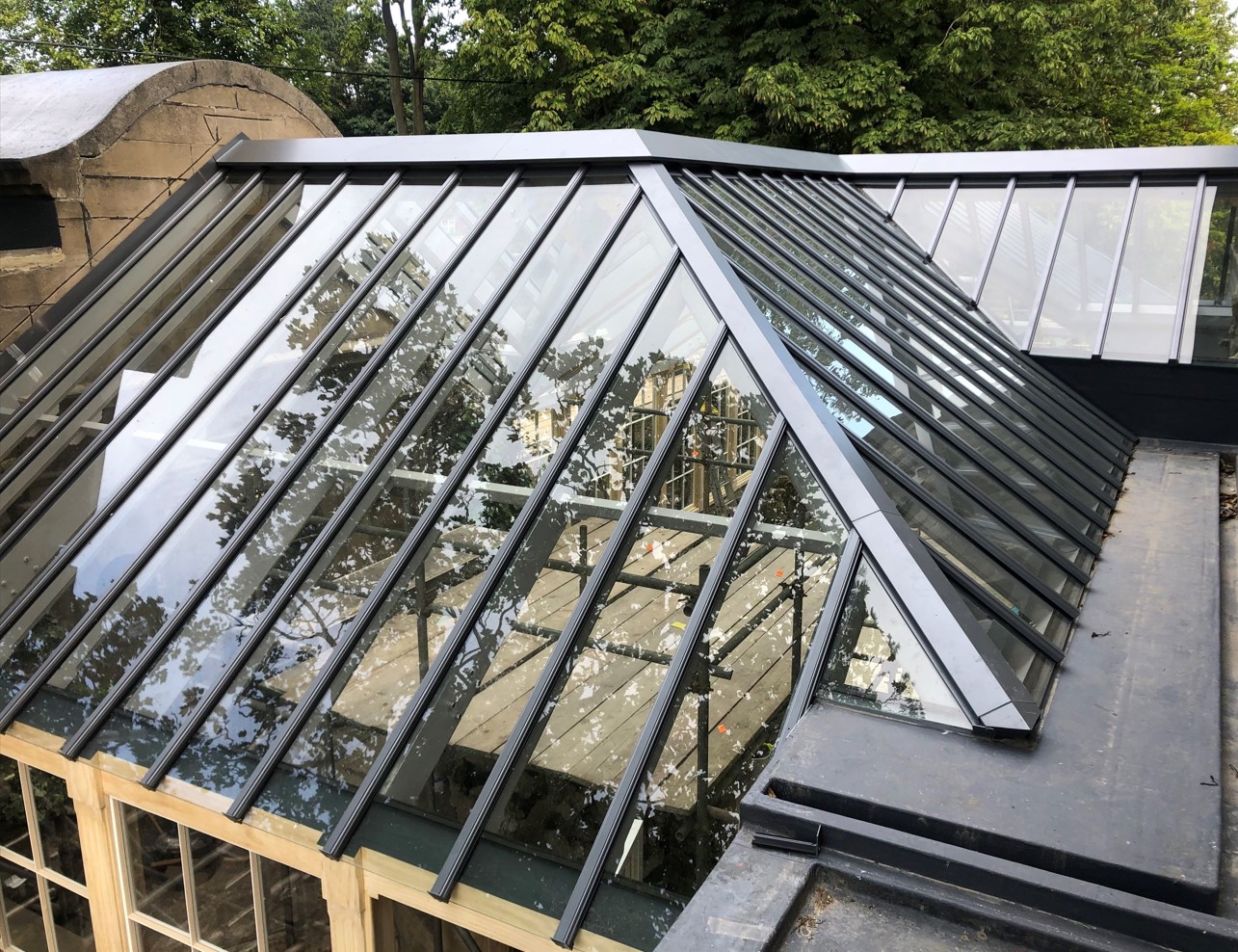 The Winter Garden
'The winter garden is a unique iron and timber framed conservatory containing decorative stonework…The room appears to have been inspired by the Victorian passion for romantic, idealised notions of landscape and legend…' (source: sunderland.gov.uk)
Sadly, the original structure of the winter garden was beyond repair and has been rebuilt using C24 grade construction timber which is capable of withstanding high loads and wide spans.  New Accoya timber windows were installed on sandstone dwarf walls.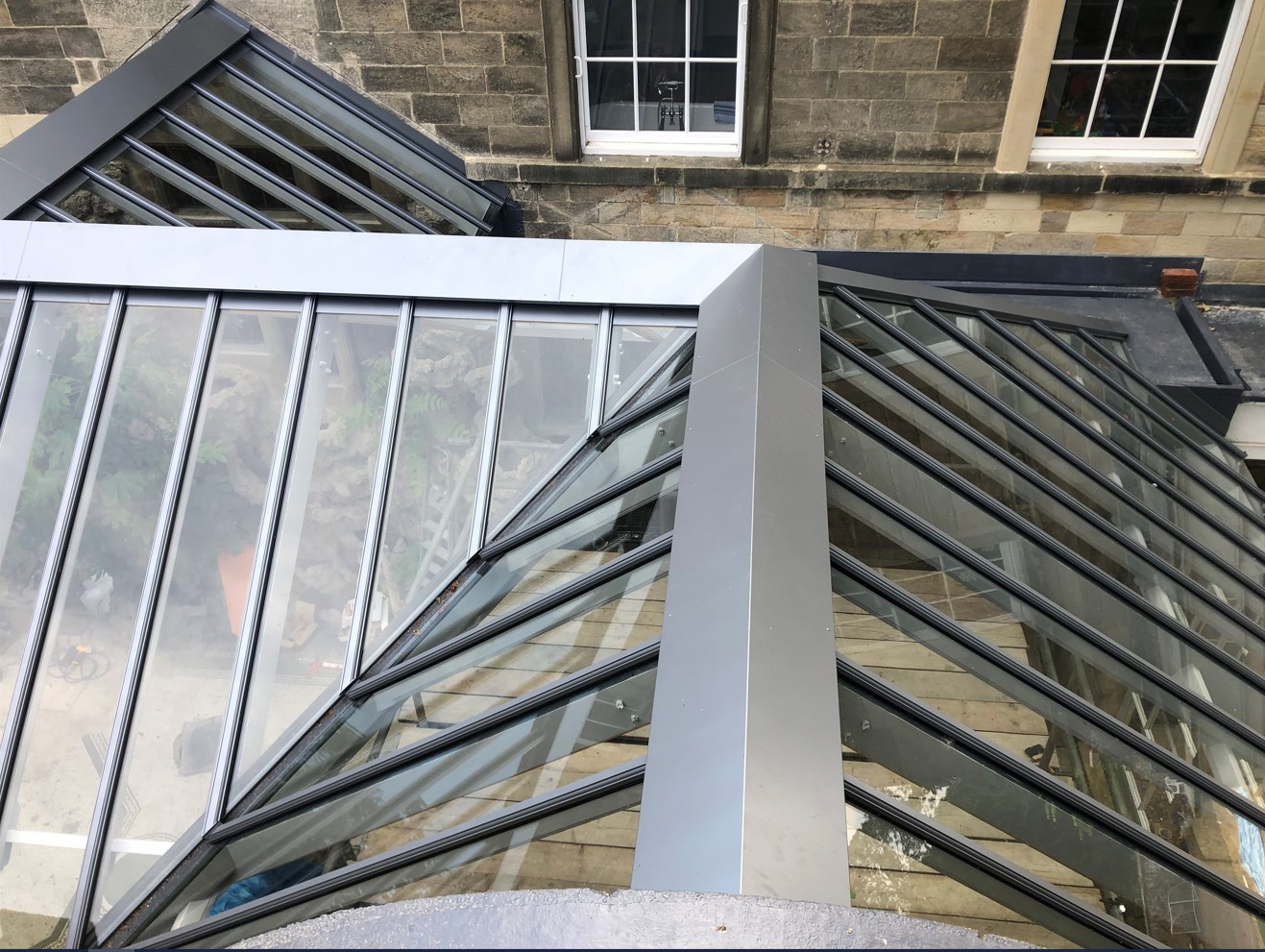 ​New Aluminium Roof
Howells's HGR1 aluminium rafter bar system was chosen as a sympathetic yet high-performance solution for the new conservatory roof in the mansion refurbishment.  Glazed with 11.5mm clear laminated and toughened shaped glass, the roof required additional support to comply with building regulations.  
To accommodate the weight of the glass, the reinstated C24 timber rafters were laminated to a steel subframe, determined by steel calculations.  The HGR1 aluminium rafter bars then fit seamlessly atop the new timbers. 
For a cohesive and complementary finish, the aluminium rafter bars were powder coated in anthracite grey (RAL 9023).  The roof was completed with bespoke pressed metal in the hips and ridges.
"Howells were a pleasure to work with.  They were fast, reliable and efficient.  We are very pleased with the quality and overall aesthetic of the conservatory roof.  It has helped re-establish some of the long-lost grandeur of the Winter Garden – linking the Renaissance style sandstone feature entrance on Warden Law Lane with the House."
ENDS
(403 words)
Notes to Editor://
Howells Patent Glazing
www.howellsglazing.co.uk
E: info@howellsglazing.co.uk 
T: 01384 820060 
Facebook – HowellsGlazing
LinkedIn – Howells Patent Glazing Limited