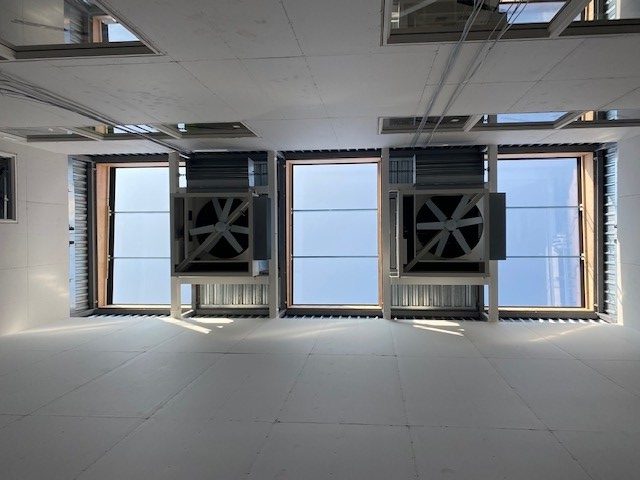 EXTENSION AT KINGSWOOD ACADEMY IN HULL
Work is now complete on a £4.4 million extension at Kingswood Academy in Hull, following an increase in demand for places.
The new Russell Building comprises 12 new classrooms; two offices; a new dining area and servery, including indoor and outdoor seating; toilets; and plant rooms.  A further 72 parking spaces have also been created.  It has enabled the academy to create a further 150 places for students.
Main contractor, Sewell Construction was tasked with delivering the extension – a three-storey stand-alone building at the rear of the existing school.
Howells Patent Glazing was appointed by Sewell Construction to design, supply and install three flat-top rooflights for the new building.  Speaking about the appointment, Joe Donkin, Assistant Quantity Surveyor from Sewell Construction said: "We have worked with Howells before and knew that they would be best suited to the job, with the skillset that we required."
Flat-top Rooflights
The three flat-top rooflights sit amongst a sea of solar panels and to either side of two rooftop air conditioning units.  They are pitched at just five degrees and measure 3.51m x 2.32m.  Each rooflight is split into six 28mm double glazed units with a 6.8mm laminated inner pane and a toughened, easy clean outer pane.  They each achieve a U-value of 1.0 Wm2K
Structural Glass Rafters
The rooflights were specified to maximise natural light in the atrium.  To achieve the highest possible light levels, Howells used its structural glass rafters to reinforce the structure.  These provide support without breaking the sight lines.  There are six 39mm glass rafters in total; two per rooflight, each made from Class 2 safety glass.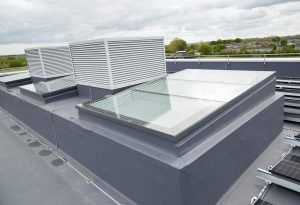 Due to the design of the Howells flat-top rooflight only the glass element with a black painted edge border can be seen from above or below.  Out of sight, the aluminium structure is powder coated for durability.  On this occasion it was matt finished in RAL 7043 Traffic grey B.
Commenting on the overall experience of working with Howells, Joe Donkin, Assistant Quantity Surveyor said: "They [Howells] are a very competent contractor that we like working with."
The school remained operational throughout the project.  The new Russell Building was officially opened by the Lord Mayor of Kingston upon Hull at the end of June 2022 completing the extension at Kingswood Academy in Hull.
The project was delivered by Hull Esteem Consortium LEP Ltd as part of Hull City Council's Pupil Place Planning project.  The expansion is one of several schemes taking place across the city, benefiting from a part of £50million being spent to ensure children have the best education facilities possible.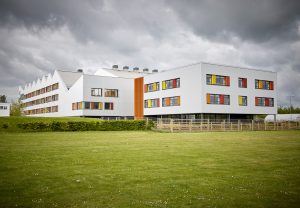 To find out more about Howells Patent Glazing and its products and services please visit howellsglazing.co.uk.